I lamed out of going to Miramar for some geocaching, but I DID manage to get on the bike for a ride to El Cajon. Why? A geocache, of course!
It wasn't terribly hard to find, and I took this picture to post on the cache log to prove that every once in a while I actually DO ride the bike to a cache!
And, of course, on the way home I got a flat. This was a pretty nice spot to change it at, and here you can see I have almost everything packed back up and the tube is holding air.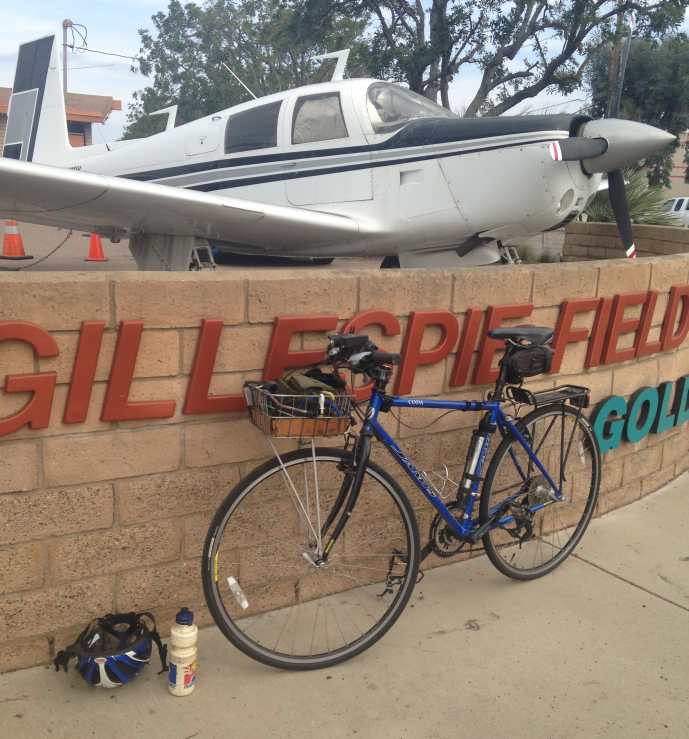 I seem to have fallen short on my keeping of records for bicycling! As best as I can remember this MAY be my first ride of 2015. It's certainly the longest, at 15.57 miles today.
In trying to reconstruct my mileages for the last year this is what I came up with:
2014 -- 214 miles total, all on Jamis. (A new low! To contrast, in 1998 I rode just a hair over 4,000 miles)
Odometer start for 1/1/2015 -- 12,667 miles.
Well, now THAT'S documented for all enternity!
In cleaning up the joint (like you could even tell!) I seemed to have disappeared the box for my bicycle lights. The box with the charging cables inside. I sure hope I just put it away real good and and did not toss it in a fit of straightening-up frenzy!