I drove up to
Los Peñasquitos Canyon to search for geocaches this Sunday morning. It was very foggy on the 15 going north--I turned on my windshield wipers a little!
Here the Ranch House water crossing. The stream flowed merrily beneath.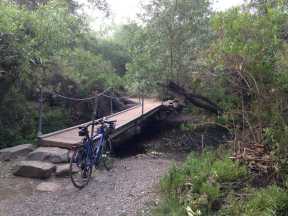 While fumbling around trying to find an access point to a cache I discovered
Eichar's grave site
. John J. Eichar (1825-1882) was buried here. He possibly was a cook at the ranch. His father was a prince in Bavaria. If you don't believe me then just click the link and read the plaque!
Wandering around sort of lost, because I clicked on the wrong cache in the GPSr, I ended up on the trail, as it turns out, heading out of the canyon to the park on Camino Ruiz above. Well, I did not want to go all that way, so I fired up the phone app to find a nearby cache. I FINALLY got "one bar" and downloaded a nearby cache, saving it so I could look for it "off line". It turned out to be near a bridge, and I got "caught" for the second time by a jogger while I was under a bridge. I need a spotter!
This scene is on the trail Not exactly safe for high speed descents! I nearly bonked my helmet on one low branch on the way up, and there was a lot of debris on the ground from other people wonking themselves, I assume. It was very pretty, though! Magical!
First World Anarchists
may appreciate this pic.
I'm not going to bore you with cache details, except for the one with the SNAKE!! Yes, another rattlesnake! I reached into a bush and grabbed the container, then a VERY LOUD NEARBY BUZZING started up! Yikes! I hopped back and threw the cache, 'cause, it MIGHT have a snake in it!! Well, it didn't, the snake was in the bush. I signed the log, then I threw some rocks in the bush. Not hearing anything I approach it to replace the cache. Then the VERY LOUD NEARBY BUZZING started up again! I THREW the cache at the bush and made a hasty exit. Never did see the snake, though.
I found seventeen caches today and rode the bike 9.18 miles. I am hoping mightily that I didn't get any poison oak on myself.
---------------------------------------
The other day I was discussing bicycle tube repairs with A.M. I am sure he will be interested in reading this entry about
Hot Patching from the Back Alley Bikes
blog. And at the
Google Groups Forums rec.bicycles.tech
(is this usenet?) there is a fairly incoherent and sometimes rude discussion on whether rubber cement is the same as cold vulcanizing fluid.