I only rode about three miles on the bike today. I was using the bike to visit various geocaches in the Eastlake area. If I had only RIDDEN to Eastlake, instead of hauling the bike there. Too far, too trafficky! I found seven caches, and did not find three. And apparently skipped one altogether.
Hey, I took a picture near one of the caches! Looking south towards Otay Mesa and Mexico, we see the toll-road 125 crossing what I am going to call the Otay Valley, and which may in fact actually be named that.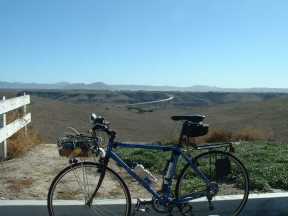 Well, they are coming to light the pilot in the furnace tomorrow, so that will be swell.