I rode down to Spring Valley, as you may have read on my status post on the FB, and found me a geocache on a rusty ol' bridge, but not until after a great deal of looking, both to AND fro, and much reading of previous logs. Not to mention much avoiding of horse poop.
On the way home I stopped in at Sunny Donuts and got a plain cake donut (spell check don't like that spelling) with a large coffee, to go. I couldn't figure out the creamer situation, so I had it black.
I rode 12.82 miles today.
Here some things I need to get off my chest.
It rained back on the 19th, here's a pic from work: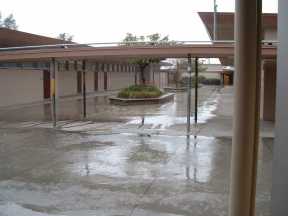 Here is the final incarnation of the Zima blinking badge. I drew the reindeer myself! Click on the image to see the blinking animation in a way-too-large GIF of nearly a meg.
I shoved the bird bath over a foot so the water might warm in the sun and one of the gnomes fell on the ground and broke his behind. Oh, gnooooome!
Last night we cruised San Diego and points east in search of Christmas lights and displays. We found a great many, including a seizure inducing one on either Loma Alta or Vista Grande, I can't remember which, which was right up the street from a house that may possibly have every Christmas display item ever created, including what must be a twenty-foot reindeer on the roof.
Over in the Northmont area some people were setting off little hot-air balloons into the sky. I made an iPhone movie of it, but it is remarkably dull and so I deleted it, so use your imagination.
Remind me to make a list of my favorite television shows of the past year.