DROVE the cans to the recycling, took the money and bought some tires and a tube on sale at Performance. Also bought some drip pans and an element for the cooking stove, BTW.
Bought two Forte GT2/K 27 x 1 1/4 tires on sale for $9.99. Bought one Forte tube, 700 x 35-38 Schraeder stem for $2.99. Tube says on the box it's for 27 x 1 3/8, but the display is marked 27 x 1 1/4. I don't know, seems to fit ok!
Replaced the rear tire on the Schwinn as it was getting down there, the old Chang Shin lasted 3,000 miles.
Did I ever mention the dog my brothers had named Chang Shin?
Repaired the old tube. There was a little piece of glass in the tire in an appropriate spot, so that must have been the culprit.
Threw the repaired tube and the replaced tire on the spares pile, along with the second new tire.
There yah go!
Don't know how long the image link will last, but this nice pic of a 1971 Schwinn Paramount at what looks like Point Loma was posted on fark.com by Lee Harvey Osmond at 01:05:36 PM on 2007-10-26 in a possibly NSFW (Not Safe For Work) thread about
Bicycle Lust
.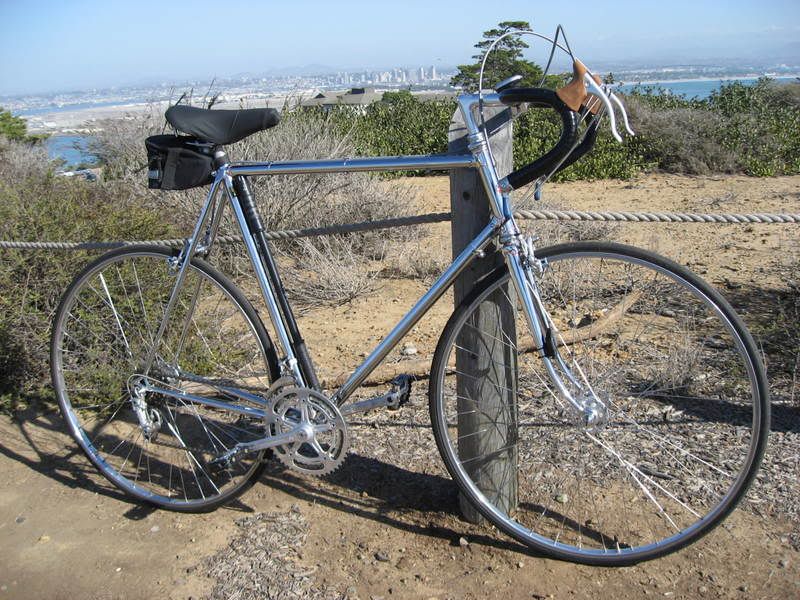 Nice!