It's pretty cool and overcast so I went for a little bike ride (7.14) miles on Jamis this morning, up to Fletcher Hills and back. Nothing much of consequence occurred, looked for some geocaches but did not find them, checked my Costco and Drive-In caches, they look OK, although the Costco one is gonna need some new camo soon. I check on the other guy's cache at Sharp, the one he replaced the other day. Didn't find it at first, as he moved it to another spot. Sneaky! Do I get credit for a new find since it is moved? No, I do not.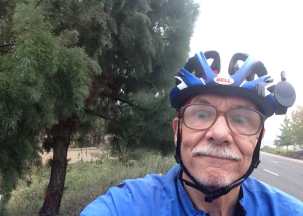 The odometer today was at 12,610 miles at the end of the ride. Just for the record.
Here's a link
to the short'n'crummy little loco movie I uploaded to YouTube to show someone what I am spending my riches on. If you are following the other blog (And you really should, you know!) you may have already seen this.
That is all I have for today!