Yep, I went for a bike ride this morning. Seventeen (17.17, to be preciser) miles out to the other side of Gillespie Field and back again.
I checked on my Costco geocache. It's still there.
Went down Fanita and east on Prospect. Should have detoured to Mary's Donuts, but I did not.
Atlas missile display at the Air & Space Museum Annex at Gillespie Field north.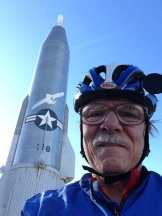 It may look like I am constipated, but really I am just trying to see what I am taking a picture of. Concentrating, like. Focused, one might say. Doesn't explain why I always look like that, though.
I found one geocache along the way. It was full of water and the log was soaked.
I picked up a rock on the Fletcher Hills grade and brought it home. It's good to have a basket.
I checked on my pine tree geocache. It's still there. Life is good.
That is about all I got here for now!